Activities for the Homebound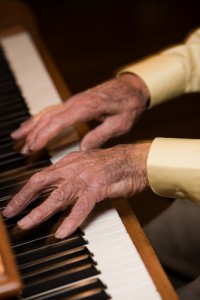 Caregivers for the elderly frequently express interest in ideas for senior activities, especially activities for people with dementia or activities for the homebound.
A useful source of ideas for activities for the homebound is to check out nursing home activities on the web and see how you can adapt those ideas to home use.
We reviewed several senior activites nursing home calendars and then googled the web for similar activites and products for senior citizens that can be purchased online and that can provide hours of pleasure at home. We found puzzles, board games, Soduku, Nintendo, memory games, printable games, playing cards, audio books, bingo, flash cards, sewing, adaptive gardening tools, scrapbooking, activity aprons, large print books, and many, many more ideas. Feel free to leave a comment if you have found a good source of online, affordable activites for the homebound elderly that you care for.
jigsaw puzzles ,Soduku, word games
We found large print crossword puzzles, Sudoku and jigsaw puzzles for all levels of function. You should consider children's puzzles with jumbo pieces. These activities for the homebound will be mentally stimulating as well as fun for your loved ones to do. Please check our selection…
Playing Cards
Your loved one, now homebound, may miss the fun and socializing playing cards at the senior citizens center. Perhaps they can attend a senior center, but can no longer participate in card games because of visual limitations or arthritis or upper extremity weakness. We browsed the internet and found playing cards that address the special needs of your loved ones. These cards include low vision playing cards, jumbo sized playing cards, playing card holders, and jumbo poker playing cards.
TV
TV watching is a favorite pastime of the elderly. Consider old classics like 'I Love Lucy" and "The Honeymooners" as you share movie watching with your loved ones. They may also enjoy the vivid colors of National Geographic videos However, TV watching is easily ruined by the inability to either turn the TV on or to change the TV channels. This brings us to the practical topic of TV remotes. Caregivers, if your loved one has limited hand flexibility because of arthritis or other diseases causing upper extremity weakness or, if your loved one is visually impaired, consider TV remotes with the following features:
Easy to push buttons
Large Buttons
Lighted Dials
For those individuals with memory loss, jumbo size remote controls are available which are less easily misplaced
Large buttons and letter TV remotes are available for those with limited hand dexterity or poor vision.
. For more details on this and other TV remotes that we found on the internet… .
TimeLife.com has an extensive selection of documentaries, videos, movies, tv selections, encompassing the golden oldies to the present. Your homebound loved one may enjoy these.
Digital audio books
Digital audio books are especially enjoyed by the visually impaired. We found a large selection of audio books available at public librares and bookstores. In addition, we found internet sites that provided subscription services which included home delivery of audioooks. One such subscription service is audible.com which has a selection of books including bestsellers, and podcasts.
Video games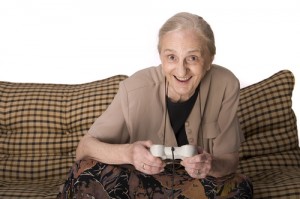 can be enjoyed by all ages. Consider Nintendo Wii and other sit down sport games. Surprisingly video games, especially bowling, has moved to the top of the list for activities for the homebound elderly. Nintendo can be fun as well as therapeutic for the elderly. We found articles from the Mayo clinic referring to Nintendo Wii fit. The effect has been positive. We have a selection of Nintendo consoles and accessories in our adaptive shops. Come take a peek…
Flash Cards
We think of flash cards as learning tools, but they can be fun, stimulating activities for the homebound and they encourage interaction. Your loved one, the stroke victim with the impaired speech, may actually benefit from 'working' with flash cards. You can make your own using index cards and pictures from magazine or computer clip art or you may wish to purchase ready made.cards. See these ready made cards which are colorful and large print. We have a large selection on site.
Bingo
We found uniquely designed bingo cards especially for those with low vision, or cognitive dysfunction. Bingo has always been high on the list of activities for the homebound. Bingo games purchased for home use can be one of many stimulating activities for the homebound that the elderly will appreciate. Teaching tools such as phonics, word and picture recgnition are artfully disguised as fun. In addition to tradtional bingo games, take a look at what we found on the internet. Please browse through our selections.

Memory cards
Memory exercises for mild Alzheimer's
Games
[singlepic id=52 w=320 h=240 float=right]
We found an extensive selection of games, including Spill and Spell, which is a featured game on our Adaptive Shops. Board Games can be shared with the grandchildren making it one of the most popular activities for the homebound. Please visit our board games shops for more details on all time favorite board games activities for the homebound.
Constructive Playthings
Here one finds durable, colorful toys for children of all ages, including our loved ones with dementia.
Gardening
Gardening is a universal pastime that could be high on one's list of activities for the elderly, especially the homebound. It is a relaxing pleasure, involves physical exercise, and reduces stress. Taking care of a plant is a purposeful activity that over time, your loved one may look forward to on a daily basis.
We've included a catalog of plants from Mr. Bonsai and other vendors that you may want to look at and possibly purchase for your loved one. Bonsai plants are small, do not overpower a small space and look spectacular. This plant can be cared for year round making it high on the list of activities for the homebound. Please browse through our indoor garden section at our Adaptive Shops.
Adaptive gardening Tools would be especially appreciated by those loved ones who have arthritis, or limited flexibility of the spine or upper extremities. We found a selection of garden tools that address these issues. We found long reach garden tools. Long reach garden tools allow you loved one to garden in a seated position. We also found easy grip garden tools, arm support, a garden seat caddy, etc. Please take a moment and visit our Adaptive Shops and see these items in detail.
Adaptive Sewing Equipment
Grandmas are world renown for their sewing craft; remember the beautifully designed creations that were made with love? Vision loss and arthritic hands may have made this hobby difficult to pursue. Products exist on the market which make this pastime possible again and it can prove to be one the most satisfying activities for the homebound. Browse through a selection of adaptive sewing aids that are available.