Cosmetology for the Homebound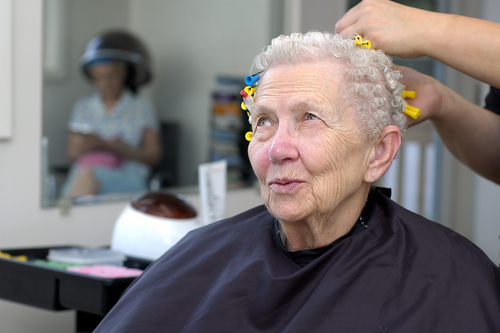 Cosmetology for the Homebound is an important component of caregiving.
Your loved one may no longer be able to leave the home for cosmetology and barbering services, whether these services are hair styling, applying makeup, manicures, etc. Be aware that in home services are available. These in home services should meet the same health and safety guidelines as those required by law for outside establishments.
We found a brief review of standards for cosmetology at this website by the California Department of Consumer Affairs.
Learn more…
We like the way this particular website at barbercosmetology.gov has condensed important information into a fact sheet that proivdes information about what should be universal standards of care. Please take a look at it and also review what standards are required by your particular state. More information…
Of course, we cannot recommend any particular in home service. What we have done, however, is asked this nonprofit agency, the American Association of Cosmetology Services, to direct us to where one can get information of in home service providers as well as information on whether these providers have met government health and safety standards for providing in home cosmetology standards. As soon as we get this information, we'll relay it to you. More information…
Helping the elderly and the disabled to independently manage their appearance helps them to maintain their self esteem. Proper lighting, proper tools and proper mirrors are essential to providing cosmetology for the homebound. Some products listed below may be useful.
Caregivers – we discovered some incredible hair care products that make hair care significantly easier for you and the elderly that you care for…
Hands Free Hair Dryer Holder that leave both hands free while drying the hair
Inflatable Shampoo basins to shampoo hair in bed
No rinse shampoos
Long handle combs and brushes
Long handled hair washers
Hair washing trays that allow one to have hair washed while seated at a sink
We have a full inventory of these helpful products in our adaptive shops.
Favorite Customer Picks