Bed Rail Advantage Traveler - $64.95
The Bed Rail Advantage Traveler offers a helping hand to a sitting position in bed. No assembly required - pops out of box ready to be placed on any bed. Quality steel construction - heavy duty steel with powder coat provides long lasting quality. Portable handle folds down for storage and portability. Safety strap secures base to mattress. Foam Grip provides comfortable cushion grip; closed cell foam is easy to sanitize. Fits on either side of the bed.Includes a free Bed Rail Advantage Organizer - a $19.95 value!Ships via UPS Ground. Bed Rail Advantage Traveler Features: Quality steel construction. Folding portable handle folds down for easy storage. Safety strap secures base to mattress. Fits on either side of the bed. Foam Grip provides comfortable grip. Includes a free Bed Rail Advantage Organizer. Bed Rail Advantage Traveler Specifications: No assembly required. Weight Capacity: 400 lbs. Rail Height: 22?. Rail Width: 17?. Base Dimensions: 21? x 17?. Weight of product: 8 lbs.
Arthritis Products
High quality Arthritis Products and Adaptive Products from all over the Internet compiled into one place for seniors and those with disabilities.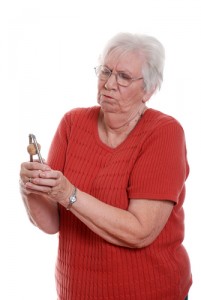 VIEW OUR SELECTION OF ARTHRITIS PRODUCTS:
Arthritis Aids for the Elderly
Unfortunately, arthritis, a disease of the joints, is very common among the elderly population. Achy, tender joints can be debilitating and may interfere with everyday life. However, the good news is that there are many adaptive arthritis products to help arthritis sufferers maintain independence and reduce joint sprain. The following is a list of arthritis products that do just that.
People with arthritis often find their morning routines to be challenging. Putting on socks and shoes can be quite painful and tiring. Using a sock aid can alleviate some of this discomfort. A Deluxe Sock Aidis a device with handles that allows you to put on your socks without bending or straining your joints. Shoehorns such as our Long Handle Shoe horn, are useful for putting on and removing your shoes. As for tying shoelaces, elastic shoelaces are a great alternative to conventional laces.
Housekeeping can be tiring for just about anyone, but for people with arthritis it sometimes seems impossible. Grabbers and reachers are extremely helpful, allowing you to grasp items without bending or straining. A Long Handled Dust Pan & Broom with Ergo Handle make sweeping a much easier task.
The kitchen can be a source of frustration for many arthritis sufferers. Opening and closing jars can often prove difficult, but jar grippers and openers provide a simple, easy solution. Gripping knives can be challenging as well, not to mention dangerous. Fortunately, there are knives available that have been created with this in mind. With thick, textured handles, they provide a safer, more comfortable grip.
While a warm shower often helps to relieve joint pain, it can also be a bit arduous. Bathing aids like tub treads, long-handled body washers, and foot cleaners help to make bathing less of a chore. For arthritis sufferers who need a little extra help, shampoo basins and rinse-free shampoo caps are great options.
•Gardening aids

Kneeling is often painful for those with arthritis, which unfortunately means that gardening can prove difficult as well. Arthritis products like the Garden Seat Caddy allow you to simply roll through your yard and tend to your garden without ever having to kneel or bend. Tools with textured grips and long handles also allow for an easier, pleasant gardening experience.
•Game aids
Having a hard time enjoying your favorite past times? Arthritis products also extend to game aids. What about playing cards? Handsfree card holders, which are designed to sit on the table and hold your cards for you, make evenings with your friends much more enjoyable.
•Adaptive gadgets
It would be nearly impossible to list all of the other unique adaptive tools and gadgets that are available for those with arthritis. From special key turners to straw holders to pens you can wear on your finger, the options are endless.
FAVORITE SELECTIONS:
$99.95

The Transfer Handle has a large handle attached to a board and prov… [Read more]

$9.95

Use this specially designed Lotion Applicator to apply lotions, oil… [Read more]

$12.95

The Dress EZ Dressing Aid 30 inch is a dressing stick and long hand… [Read more]

$15.95

The Amefa Right Hand Fork has a curved handle that fits comfortably… [Read more]

$9.95

The 15 inch Playing Card Holder is a durable plastic tray for holdi… [Read more]

$7.95

White Elastic Shoe Laces are stretchable shoe laces that turn lace … [Read more]

$6.95

The Magnetic Silver Jewelry Clasp is very secure, and easy to use. … [Read more]

$33.95 $25.95

The Press-On One Handed Nail Clipper is a unique nail clipper that … [Read more]

$31.95

The Push Down Mounted Scissors have a large T shaped handle that ea… [Read more]

$15.95

The handy Gas Cap Removal Tool helps you to loosen tight gas caps. … [Read more]

$9.95

The Steady Write Pen is designed to help improve handwriting. This … [Read more]

$5.95

The Apex Door Knob Gripper slips over an existing door knob to prov… [Read more]

$3.95

The Apex EZ Key Turner is a package of two large holders designed t… [Read more]

FeatherLite Reacher Standard 26 inch

$10.95

The FeatherLite Reacher Standard 26 inch is lightweight and allows … [Read more]

$14.95 $13.95

The Easi Grip Garden Tools Trowel has an ergonomically angled handl… [Read more]

Thermoskin Arthritis Elbow Wrap

$29.95

The Thermoskin Arthritis Elbow Wrap provides protection and support… [Read more]

$19.95

The Nail Clipper Board is a standard size nail clipper securely att… [Read more]

$11.95

The Easi-Grip Forked Knife features a forked end that aids in holdi… [Read more]
CAREGIVER AIDS