Favorite Gifts for the Elderly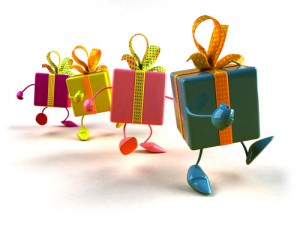 Welcome to an organized showcase of unique and favorite gifts for the elderly with your loved ones' best interest in mind. If you are searching for creative gifts for the elderly or disabled people in your life, you've come to the right place. This is a gift shop right at your finger tips. No where else will you find a place that can meet these specific and important needs as well and with as much consideration.
Every loved one, no matter what special needs or unique condition, deserves to have the perfect gifts from the ones they love. However, because of these circumstances may be difficult to relate to, it is understandable that people seek out guidance when looking for something that the recipient will truly appreciate.
Here are a few suggestions taken from among our favorite gifts for the elderly
that are broken up into 2 categories: Personalized and Functional. They can make a huge impact on the life of your elderly or disabled loved one.
Personalized Gifts:
–Gift Baskets
Filling up a basket with a bunch of personalized items is a great way to express your relationship with somebody. Crossword puzzles, muffins, cards, and anything else you can think of can be jam packed with some tissue paper into a basket that they'll have fun disassembling and going through. Then, when they take out all the goodies, they can use the basket. A very thoughtful gift for somebody that you're very close to.
-Travel
Sending your grandparents on an anniversary outing is a kind way to show them that you really care. If they're already planning a trip, personalized luggage is a sweet touch
-Funny
Something with a light heart and humor might be exactly what your elderly family member or friend needs right now. Many gifts for the elderly can be based on an inside joke. An "Over-the-Hill" card or shot glass could inspire quite a laugh. Cheering them up is a gift in itself.
-For grandparents
If your senior or disabled loved one happens to be your grandparent, you can bet they're proud of it. Presenting them with a "World's Best Grandma" shirt, mug, or blanket would be a very personalized way to make them happy. We have found that personalized gifts, especially from the grandkids, tops the list for favorite gifts for the elderly. They talk about you all the time, love to hear from you, and now you get to show them how much you appreciate their love.
–Collectibles
If your kin already has a collection, adding to it with your gifts could be a very intimate way to appreciate them. Even if they do not, starting a little collection for them could be a great way to form a bond. Adding to it every time you visit with a special gift is an excellent way to keep in touch in a way they can see even when you're not around.
Functional Gifts:
-Adaptive Clothing
Some disabilities make it harder to get around and do things that might be easy for people. Getting dressed has the potential to become a real chore. Caring and affectionate gifts for the elderly include adaptive clothing. These are pants, dresses, shirts, and nightwear that have accommodating zippers and snaps. These items are an excellent way to show that you care. It is something that you know they'll actually use. Adaptive jewelry has also claimed a top spot among favorite gifts for the elderly.
–Relaxation and Personal Hygiene Gifts
Things like aroma therapy candles, flameless candles, memory foam pillows, and blankets are a great gifts. This include special soaps and loofah sponges that are designed to make showering easier. Life becomes a little less comfortable as you age and these small comforts have a big impression that will mean very much and last a long time.
-Recreational
Large print books and cards, which are made to accommodate for less than perfect eye sight, are great gifts for the elderly that can occupy the time that a retiree might have a lot more of lately. Bird feeders and knitting supplies are also good ideas. Anything that can make the time that passes more enjoyable, or even productive. It is rather empowering, especially for the disabled.
-Service
Signing up for a service on your loved one's behalf is a great way to ensure they are getting taken care of even you can't be right there all the time. This could be magazine subscriptions, meal deliveries, or housekeeping.
-Home Decor
Everybody loves to personalize their living space. Something as basic as flowers, plants, attractive quilts or throw pillows can make your loved one feel very special. Now, every time they see it the will be reminded that you care.
Featured Products